Bicycling has been a growing trend in the United States over the past few years, mostly in urban metropolitan areas. Many urban cities in the state of Florida and throughout the rest of the country have been bicycle-friendly for years and have been proactive in designing bike lanes and bike paths to give cyclists safer ways to travel alongside motor vehicles. In order for bicycling to remain as a safe alternative to driving a motor vehicle, cities will need to continue to stay focused on ways to reduce the number of cycling accidents and fatalities.
Since the late 70's, there has been a decline in bicycle fatalities. However, a recent report conducted by the Governors Highway Safety Association shows that bicycle fatalities have been on the rise these last few years. Between 2010 and 2012, there was a 16 percent increase in the number of cyclists who were killed in accidents with motor vehicles.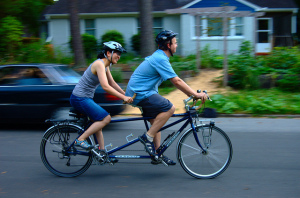 Total Number of Bicycling Fatalities from 2010-2012
2010 – 621 fatalities
2011 – 680 fatalities
2012 – 722 fatalities
The GHSA report revealed that the states with the most bicycling fatalities were Texas, California, New York, Florida, Michigan and Illinois. Why these states? Florida and the other five states are all densely populated with multiple urban areas, which can lead to an increase in the number of bicyclists on the road, providing more opportunity for collisions with motor vehicles. The statistics do not lie – nearly 70 percent of all bicycling fatalities occur in urban areas and more than 33 percent take place at intersections.
Accidents involving motor vehicles can be very dangerous to cyclists, mostly because bikers are relatively unprotected. There are actually a number of things that bicyclists can do to protect themselves from injury and to prevent a tragedy.
Wear a Helmet
Follow all Traffic Laws
Never Bike Under the Influence of Drugs and/or Alcohol
Exercise Extra Caution When Approaching and Crossing an Intersection
Use Designated Bike Paths, Lanes and Trails when Possible
If you have been seriously injured or a loved one has been killed in a bicycle accident with a motor vehicle, it is important to safeguard your legal rights in order to protect your future. A Florida Injury Lawyer at Whittel & Melton can help you understand your best options. Contact us today to learn how we can help you, call 866-608-5529 or request a free consultation online.