The National Highway Traffic Safety Administration has publicized their annual Distracted Driving Awareness safety campaign. The month of April is National Distracted Driving Awareness Month so the NHTSA's U Drive. U Text. U Pay. campaign will focus on the financial consequences and expenses of texting from the driver's seat. The U Drive. U Text. U Pay. campaign has been funded by grants totaling up to $8.4 million from the U.S. Department of Transportation. This year's slogan is "If you're texting, you're not driving."
What's the average time texting takes your eyes off the wheel? Five seconds. While that might not seem like a lot, if you are travelling at 55 miles per hour, that's equivalent to driving the length of a football field blindfolded. You can't drive and text. You're either driving or you're texting. Even just reading a text message is enough to cause an accident resulting in an injury or fatality.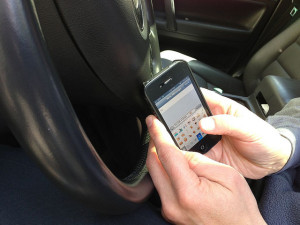 Distracted Driving Key Facts
3,154 people were killed in distracted driving crashes in 2013
An estimated 424,000 people were injured in accidents involving distracted drivers in 2013
3,328 people were killed in distracted driving crashes in 2012
27 percent of the distracted drivers in fatal crashes are drivers in their 20s
Texting while driving has become an epidemic in Florida and across the nation. Drivers of all ages have been known to engage in distracting driving behaviors behind the wheel. The good news is that most states now have distracted driving laws. Law enforcement agencies will be enhancing enforcement efforts throughout the country this month in order to combat this nationwide epidemic.
What to Do After a Distracted Driving Crash
After any kind of collision caused by another driver's negligence or carelessness, it is always a good idea to speak with a Florida Injury Lawyer at Whittel & Melton about your legal options. We can perform an extensive investigation into the crash to determine if a driver was distracted at the time of the wreck. For a free consultation, please call us today at 866-608-5529 or contact us online.