A couple was found dead Thursday in an apparent murder-suicide aboard a Holland America cruise ship that docked in Puerto Rico, according to officials.
The unidentified man and woman were in their 50s and from Cleveland, Ohio.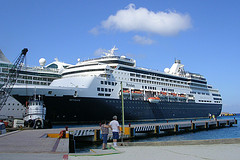 Police claim that blood was found in the cabin aboard the Ryndam, but it was unclear how the couple died.
Police have not released anything regarding the motive or the murder weapon.
The ship's crew apparently found the bodies when they checked on the couple after not seeing them for a while.
The FBI has taken over the investigation.
The ship departed Tampa, Florida, on Sunday for a two-week cruise in the southern Caribbean. The ship stopped in Key West on Monday and then spent two days at sea before docking in historic Old San Juan on Thursday, according to reports.
If someone you love is killed on a cruise ship, then the Death on the High Seas Act applies. This is actually a separate set of laws from either maritime or state laws. These types of cases are particularly complex, and should only be taken on by an experienced Maritime Lawyer at Whittel & Melton.
Death cases onboard cruise ships must be acted upon immediately as the statute of limitations could severely impact your case. When such a tragic incident occurs, you may be entitled to monetary compensation for damages, however in order to recover these funds, you must act in a timely manner.
For the aggressive legal representation needed for cruise ship injury or death claims, please contact our Florida Cruise Ship Attorneys at Whittel & Melton today for a free consultation. You can reach us anytime online or call 813-221-3200 or toll-free at 866-608-5529.