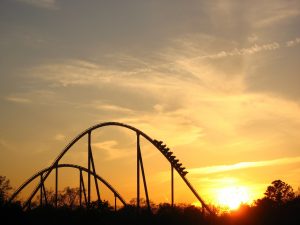 Busch Gardens and Adventure Island in Tampa Bay are starting their phased opening today with many new safety changes due to the coronavirus. 
Guests are expected to see many new safety changes that were implemented in collaboration with park officials and health officials these last few months. The main concern is keeping all guests safe, according to reports.
So, what has changed? 
First, before being able to enter the park, park visitors will have to have their temperature taken. If their temperature is above 100.4 degrees, they will not be granted access to the park. 
Second, face masks will be required. The park says they will have designated "rest" areas where masks can be taken off, as long as people are socially distancing. 
Third, there will be signs throughout the park reminding park visitors to keep a distance of 6-feet from other guests. 
Fourth, there will be hand sanitizing and stations, and ride operators will be stopping to sanitize rides frequently throughout operating hours. 
Fifth, if you wish to visit the park, you are now required to make an online reservation. This was implemented to help the park manage a safe capacity for social distancing. You can head to buschgardens.com/tampa/reservation and adventureisland.com/reservation to make your online reservations.
This phased reopening for the park was approved by the State of Florida, according to SeaWorld Entertainment, Inc. 
Orlando SeaWorld, Discovery Cove, and Aquatica parks will be opening today as well, according to reports. 
It will certainly be interesting to see how theme parks and amusement parks deal with their guests and handle extreme safety measures during their phased reopenings. Due to the fact that theme parks, amusement parks, water parks, etc were all designed for big crowds, social distancing and face masks seem to be our new normal, and will likely not be going away anytime soon. 
Ride safety and proper cleaning measures will probably be the main challenge for theme parks and amusement parks, as cleaning routines will have to be stepped up. Disinfecting rides and restraints after every guest is off will need to be performed due to the coronavirus outbreak. Overnight deep cleaning procedures will also have to be more thorough. 
Most of Florida's theme parks, amusement parks, and water parks are taking cues from Shanghai Disneyland in order to reopen safely. Occupancy caps, ride caps, restaurant caps, etc. will all be the new normal. 
Injuries are quite common occurrences at amusement parks and water parks, even before coronavirus was an issue. Our Florida Theme Park and Water Park Accident Attorneys at Whittel & Melton want to remind you that we are here for you during these challenging times. If you have suffered from a slip and fall accident, were injured on a ride, or harmed in any way on a theme park's property, we can review the facts of your case and help you determine liability. Coronavirus exposure cases are a new legal issue, but in many instances personal injury law may apply. A thorough review of any evidence will help us determine fault, and if negligence is a factor. 
The Centers for Disease Control and Prevention (CDC) strongly encourages everyone to use facial coverings, cover coughs and sneezes, wash their hands frequently or sanitize when washing is not available, and stay 6 feet apart from others at all times. The CDC also reminds us that facial masks or coverings should not be worn by children under 2, any person that has a breathing problem, anyone who cannot remove their own mask without assistance. 
Our Florida Florida Theme Park and Water Park Attorneys at Whittel & Melton are here for you during these strange and unprecedented times. We want everyone to stay safe and healthy, but realize that as more things start to open up, more dangers may arise. If you have any legal questions pertaining to an amusement park, theme park, or water park injury, or about exposure to the coronavirus, we are here to provide you with answers. We are readily available 24/7 and take the threat of COVID-19 quite seriously.