The U.S. Justice Department announced Thursday that Cruise giant Carnival Corp. will pay more than $400,000 in penalties and damages as part of a settlement over alleged violations of the Americans with Disabilities Act.
The parent company of Carnival, Princess and Holland America also has agreed to make changes to 42 existing vessels at the three brands to comply with ADA regulations. Seven other vessels in various stages of design and construction also will be surveyed and, if necessary, updated to comply with the regulations.
There are another 13 ships operated by the brands that could be subject to possible changes if they continue to be in service in U.S. ports in four years.
The settlement calls for 3 percent of cabins on the ships to be accessible to passengers with disabilities. The cabins should fall into one of three categories: fully accessible cabins, fully accessible cabins with a single side approach to the bed and ambulatory accessible cabins.
Carnival Corp. also agreed to create brand standards that address an array of accessibility issues, provide ADA training to employees and ensure reservation systems allow for people with disabilities to book accessible cabins.
The company will also appoint an ADA compliance officer at the executive level as well as ADA responsibility officers at its Carnival brand and at the Holland America Group, which includes Holland America and Princess. An officer on each ship also will be appointed to resolve ADA-related issues.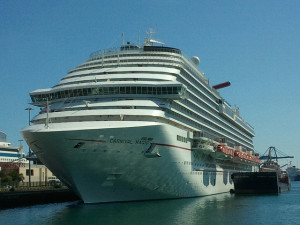 This settlement agreement comes after a Justice Department investigation of complaints that Carnival Corp. failed to properly provide and reserve accessible cabins for individuals with mobility disabilities as is required under the ADA. Additionally, the company also was accused of failing to reasonably modify policies to accommodate individuals with disabilities; afford individuals with disabilities the same opportunities to participate in programs and services, including embarkation and disembarkation; and provide effective communication during muster and emergency drills.
According to the Justice Department, Carnival Corp. will pay a civil penalty of $55,000 to the United States and $350,000 in damages to individuals harmed by past discrimination. The agency says Carnival Corp. officials cooperated during the investigation.
Carnival Corp. says it is pleased with the settlement, and released the following statement:
"We have historically maintained a strong focus on accessibility and have a longstanding track record of meeting the needs of all our guests. We will continue to do so with even more enhancements in staff training, accessibility policies and communications, as well as additional shipboard accessibility features."
Regardless of the specific cause of a cruise ship accident, the injuries passengers may suffer on these excursions can be extremely serious. It is important that the individual or company responsible is held accountable for their wrongdoing.
If you or someone you know has been injured on a cruise ship, you may be entitled to file a claim for compensation for the damages you have suffered. A Florida Cruise Ship Injury Lawyer at Whittel & Melton can help so call us today at 866-608-5529 or contact us online to discuss your situation and learn more about your rights and options under maritime law.