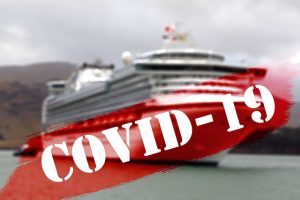 In early 2020 the coronavirus began spreading across the world leaving millions of people in one of the most dangerous and isolated places during a pandemic: a cruise ship.
It is unknown how many passengers and crew got sick or died from COVID-19. No global health body or regulatory agency is known to be tracking those statistics as of now, but we know the numbers will be alarming.
The cruise industry downplayed the dangers to consumers and kept sending out ships despite outbreaks on board and warnings from public health officials. This industry has stayed pretty silent about the death toll.
However, the Miami Herald began tracking outbreaks on board. As of publication, reporters found that at least 2,592 people have tested positive for COVID-19 during or directly after a cruise and at least 65 people have died, according to a database built by the Herald. That is far more than the industry or public health officials have acknowledged. It's also likely not the complete picture.
The Herald found COVID-19 cases linked to at least 54 ocean-going cruise ships — roughly one-fifth of the global ocean cruise fleet. That number could grow as more cases are reported.
Reporters gathered the data using records from the U.S. Centers for Disease Control and Prevention, foreign health departments, news reports, cruise companies and interviews with passengers and crew.
The cruise industry notes that it is possible that some of these people got COVID-19 from a source other than the ship they were on. It is also likely that other passengers and crew contracted the virus without developing symptoms or getting tested.
It is clear that passengers and crew paid the price for the industry's decision to keep travel going. In early February the Diamond Princess ship was sequestered in Japan after a COVID-19 outbreak that left hundreds infected. This was a clear warning about how dangerous the new coronavirus is on cruise ships.
On March 8, the CDC alerted Americans to stay away from cruising, citing increased risk of COVID-19. Regardless of the warnings, some cruise ships left port on passenger voyages after the travel advisory. At least eight of those ships logged cases of COVID-19, resulting in at least 309 cases of the disease, or 12% of the total known cruise-related cases, the Herald analysis shows. At least three of those people died.
Some ships carried the disease from one cruise to the next. After the disease broke out on the first voyage, the number of cases generally exploded on the subsequent voyages.
While some passengers went straight to the hospital, many sick people returned to their homes, sometimes on commercial flights. Meanwhile, thousands of crew members found themselves marooned at sea in quarantine. As of publication, at least 922 crew members have been infected and at least 11 have died from COVID-19.
The CDC issued a no-sail order in U.S. waters on March 14 — one day after the industry had already agreed to stop new cruises. But c
ruises still underway continued, sometimes searching for weeks for a port that would accept the ships.
Ships with COVID-19 cases come from all four of the world's largest cruise lines: Carnival Corp., Royal Caribbean Cruises Ltd., Norwegian Cruise Line Holdings — all based in Miami — and MSC Cruises, along with a number of smaller lines.
A male passenger from Miami reluctantly boarded Carnival's Costa Luminosa cruise in Fort Lauderdale on March 5. He was nervous about COVID-19, but the company wasn't offering refunds. The cruise was scheduled to go to Puerto Rico and Antigua before crossing the Atlantic Ocean to Europe.
Three days into the cruise, a woman with COVID-19 symptoms was taken off the ship and hospitalized in Puerto Rico. Antigua turned the ship away, and instead of returning to port in Florida, Carnival decided to sail the Luminosa to Europe. The company waited seven days to isolate passengers and give crew members masks and gloves even as more and more people got sick. At least four passengers and one crew member died. Dozens more fell ill, the Herald's data shows.
The man and his wife both tested positive for COVID-19 after disembarking. They both recovered.
Since the pandemic began, the industry has tried to downplay the severity of the crisis.
Arnold Donald, CEO of Carnival Corp., the world's largest cruise company, has maintained that "very few" ships have been affected by COVID-19. (At the time of publication, 17 percent of the company's ships have been linked to coronavirus.)
"Cruise ships are not the cause of the virus, nor are they the reason for the spread in society," Donald said last week. "It's not a dramatic impact compared to how the community spread occurred around the world."
In an April 15 interview with CNBC, Donald said that passengers in many cases "are at far less risk in a cruise environment than other environments."
"We have really high standards on cruise ships in dealing with any kind of health risk," he said. "You don't go to many places where you have medical records, where
there is temperature scanning, there's lots of deep cleaning going on often and all the time."
The CDC has warned repeatedly of the increased risk of COVID-19 infection on cruise ships, saying social distancing and thorough disinfecting are difficult to implement on board.
As the rest of the world watched the coronavirus consume China, still unaware of the severity of the sickness, the cruise industry was right there to witness the catastrophic reality.
In mid-February, the largest coronavirus outbreak outside of China engulfed Carnival's Diamond Princess cruise ship, which was quarantined in a Japanese port. Hundreds fell sick. At least eight people died.
In response, companies restricted boarding to exclude people who had recently traveled to China, Hong Kong and Macau. But cruise ships were business as normal. Here's how it went down, according to the Herald's report:
The week of Feb. 25
Caribbean countries began turning away cruise ships, a clear sign of what was to come.
By the time the industry closed down weeks later, several ships would be stranded at sea with dying people on board and nowhere to dock.
March 7
Even as the pandemic worsened, the Trump administration stood shoulder-to-shoulder with the cruise companies.
Meeting with industry executives in Fort Lauderdale, one of the busiest U.S. ports, Vice President Mike Pence assured the nation it was "safe for healthy Americans to travel."
Adam Goldstein, CLIA's chairman, said the companies were prepared to pay for the transfer of sick passengers and crew to hospitals.
"Given the significance of travel and tourism, it is critical that Americans keep traveling," Goldstein said. "And yes
, we also recognize this is an unprecedented situation with COVID-19. Our commitment here today and going forward is to work closely with government and go above and beyond what we are currently doing."
That day, one person who worked at Port Everglades as a passenger greeter for a Carnival Corp. subcontractor tested positive, followed by two more in the following days.
Reluctant passengers who didn't want to lose their money boarded cruise ships, trusting that companies would not be operating if it weren't safe. Cruise companies weren't offering refunds, but they were upping cleaning routines on ships and denying boarding to people who had recently traveled to disease hotspots.
Crew members had no choice but to return to sea.
March 8
The CDC and the State Department alerted all Americans to avoid cruise travel, citing an increased risk of COVID-19 infection on ships. At least 1,791 passengers and crew on cruises that left before the advisory were infected, the Herald's analysis shows.
March 9
The morning after the travel alert, cruisers still came to PortMiami to fill out health questionnaires so they could board.
Despite the clear CDC warning, the White House's coronavirus task force said that the cruise lines were working on stronger safety protocols to continue cruises. Dr. Anthony Fauci, director of the National Institute of Allergy and Infectious Diseases, said elderly people with underlying health conditions should avoid cruising.
Meanwhile, CDC and California health officials prepared to transport more than 2,000 cruise ship passengers from Carnival's Grand Princess to hospitals for care or military bases for quarantine after a COVID-19 outbreak on that ship. Herald data show at least 125 passengers and 19 crew from the ship have tested positive, and at least five people have died.
March 11
CLIA sprang into action on Capitol Hill to try to fend off a government-ordered industry shut-down. Lobbyists met with the Florida House delegation to discuss proposals to curb infections on their ships, including barring people over the age of 70 from boarding. More passengers boarded ships. Others hopped off to visit ports around the world.
Around 550,000 passengers were on cruises on March 11, according to CLIA, the same day the World Health Organization declared COVID-19 a pandemic.
March 12
Princess Cruises, owned by Miami-based Carnival Corp., was the first to stop cruising. The line canceled all new cruises for the next 60 days after government-led quarantines on two of its ships.
March 13
The rest of the North American cruise fleet followed on March 13, announcing a 30-day pause.
South Florida governments proclaimed their support. Miami-Dade County waived its docking fees, allowing cruise companies to bring their ships to PortMiami at a discount, and offered to turn a warehouse into a triage center to isolate infected passengers.
The industry is an important economic player in South Florida; along with bringing millions of tourists, cruise lines paid nearly $77 million and $60 million in passenger fees to PortMiami and Port Everglades, respectively, in fiscal year 2018.
President Donald Trump tweeted, "It is a great and important industry – it will be kept that way!"
By March 17, the CDC elevated its travel warning to require cruise passengers to self-isolate for 14 days after disembarking.
Despite his persistent public plugs for a cruise industry bailout, Trump signed into law on March 27 a federal coronavirus stimulus bill that excludes cruise companies. The companies claim exemption from U.S. income taxes because
they are incorporated in foreign countries and register almost all of their ships abroad, too.
Two days later, Gov. Ron DeSantis threatened to turn away a ship full of sick people seeking refuge in a Florida port.
Some ships that were able to get back to port quickly after March 13 offloaded thousands of cruise passengers without any screening from companies or governments.
Passengers on the Ruby Princess cruise ship that docked in Sydney, Australia, on March 19 walked right off the ship and scattered across the world—despite many showing symptoms of COVID-19. At least 647 people, including 202 crew members, have tested positive, and at least 22 people have died. The ship is the largest source of COVID-19 cases in Australia, and is at the center of a criminal investigation in that country.
Passengers on the MSC Meraviglia disembarked in Miami on March 15 without any screening after a passenger on the previous voyage tested positive. At least two passengers who got off the ship that day contracted COVID-19.
Other ships, like Carnival's Zaandam and Coral Princess, were forced to sail for more than a week to reach Florida's shores in early April after every country in the Western hemisphere with a cruise port turned them away.
At least five passengers from the Zaandam tested positive for COVID-19. All of them died, as did one of the crew members who tested positive.
On March 20, the lead physician on the Coral Princess wrote passengers a letter.
"Rest assured that, relatively speaking, Coral Princess is probably one of the safest places in the world to be at this time," the doctor wrote.
Since then, at least eight passengers and five crew tested positive for COVID-19, and at least two passengers have died from the disease. The ship docked in Miami.
After offloading passengers, ships became incubators for crew infections. Approximately 120 cruise ships with m
ore than 80,000 crew on board are currently sailing in U.S. waters; at least 20 have known or suspected COVID-19 infections, according to the CDC.
During the last passenger cruise on Royal Caribbean's Oasis of the Seas, the company alerted the CDC of a possible COVID-19 infection on board. On March 26, the company sent an email to passengers from the voyage to warn them that someone on their cruise had tested positive.
The company waited until March 28 — nearly two weeks after first learning of a possible infection — to warn the crew still on board of their exposure and isolate them. At least 14 crew members have tested positive.
Similarly, Norwegian Cruise Line encouraged crew on its Norwegian Encore ship, docked at PortMiami, to take advantage of activities normally off limits to workers like passenger buffets and pools and gyms, even as more people fell ill. Meanwhile on land, city governments and public health officials warned the public to stay in their homes.
One crew member who was able to leave the Encore tested positive for COVID-19 the next day.
Some crew members will never make it home.
As of publication, at least eleven crew members have died from COVID-19 — four of them in South Florida hospitals.
Citing continued COVID-19 infections and hospitalizations among crew who remain on cruise ships, on April 9 the CDC extended the halt on cruise operations in U.S. waters until late July, or until the COVID-19 pandemic is over, and required the industry to implement a plan to immediately mitigate outbreaks on ships.
The coronavirus outbreak has been a nightmare for everyone, but especially those passengers that were stuck on board a ship with the deadly virus. And sadly, we know now, this is a tragic situation that very well could have been avoided. Cruise lines knew about the dangers of COVID-19, and the very real risks of passenger exposure, but they made the choice to continue cruising. The passengers on board continued with life as normal while the rest of the world was being told to stay safe at home.
As more investigations confirm just how much cruise line operators knew before setting sail, it will be likely that many personal injury and wrongful death lawsuits will arise. Severe injuries or wrongful death aboard a cruise ship are nothing any passenger prepares to experience, but the reality is that these events can happen. When a cruise line's careless or negligent actions are to blame, our Florida Cruise Ship Injury and Maritime Law Attorneys at Whittel & Melton can help you file your own lawsuit or join a current lawsuit to secure financial compensation.
We are available 24/7 during the COVID-19 pandemic. We urge you to contact us right away to get help with your legal case.