Federal prosecutors are scrutinizing whether employees inside and outside General Motors Co.'s legal department concealed evidence from regulators about a faulty ignition switch. It is alleged that the hiding of such evidence potentially delayed a recall of vehicles with the fatal problem.
The examining of GM's legal department comes just after the release of an internal GM report in June that faulted the company's lawyers for failing to alert other managers to lawsuits against GM that could have helped resolve a pattern of accidents in which air bags failed to deploy. The legal department is only one area prosecutors are scrutinizing for possible criminal liability, reports indicate.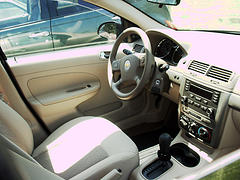 A spokesman for the largest U.S. auto maker said the company is cooperating with the investigation.
At this time, current and former employees are being reviewed as part of a larger criminal investigation into possibly misleading statements the company made to regulators about a faulty ignition switch used in 2.6 million Cobalt and other small cars. The investigation conducted by the Federal Bureau of Investigation and the U.S. attorney's office in Manhattan covers matters dating back a decade.
Prosecutors are under pressure from lawmakers to hold executives at GM responsible for the long-lasting product defect that has been linked to 54 accidents and at least 13 deaths.
The investigation, while at an early stage, could possibly end without any charges being brought. While it will be interesting to see how this case plays out, it is important to note that criminal cases against in-house lawyers are quite rare and can be rather difficult to prove. In many instances, these cases are further complicated by issues of attorney-client privilege.
If you or someone you know has recently been injured by a product that was possibly defective, the manufacturer of that product could be legally liable to you for any damages or injuries it caused. GM is currently being held liable for its faulty automobiles, and similarly, all manufactures can be held liable for damages when they create, market and sell unsafe or hazardous products to consumers. To find out more information regarding the laws of product liability in Florida, and to speak to a Florida Personal Injury Lawyer at Whittel & Melton about the facts of your case, please call us today statewide and toll-free at 866-608-5529 or contact us online.