The CEO of UF Health Jacksonville, 56, was pronounced dead Saturday following an accident on a personal watercraft. Reports indicate that the man was flung from the jet ski he was riding in Palm Beach Inlet. 
According to the Florida Fish and Wildlife Conservation Commission, the man was found in the water wearing a life jacket and was immediately taken to a hospital, where he passed away from his injuries. 
This is all that is known at the time regarding the man's death.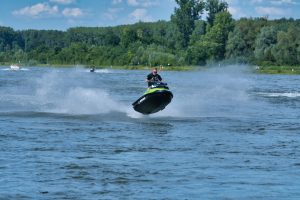 Boating, especially in Florida, is a widely popular activity. While there are inherent risks involved when operating a motorized vessel, no one expects to suffer harm when having fun out on the water. Sadly, the U.S. Coast Guard statistics show that in 2019 there were 4,168 boating accidents that resulted in 613 deaths, 2,559 injuries and $55 million worth of property damage. 
Sales of personal watercraft, also known as Jet Skis, WaveRunners, or Sea-Doos, have really surged within the last decade. The leading manufacturers of PWCs are Yamaha, Kawasaki, and Bombardier. Despite the growing sales of these vessels, any design changes or engineering modifications have been minimal despite the upward tick of accidents involving their products. 
Jet skis are very popular throughout the state of Florida, but also much more dangerous than traditional boats. In 2019, jet skis accounted for 20% of the total number of recreational boating accidents that year, ranking second to motorboat incidents.  
Why Are Jet Skis so Dangerous? 
Reckless operation:

These personal watercrafts are light, but have powerful jet motors that can reach speeds of 65 mph or higher. Because they are easy to maneuver, many operators get overconfident and tend to behave recklessly when taking them out by jumping large waves or weaving in and out of boat traffic. 

How they are designed:

Because jet skis are small in stature, they can flip over quite easily. When cruising at high speeds, the risk for flipping is even greater. The way that jet skis are designed prevents anything from stopping riders from falling or being ejected from the vessel at any moment. It is also worth mentioning that the steering column of jet skis can strike riders heads or chests when involved in an accident at even moderate speeds. 

Riders that lack training:

Personal watercraft vessels are generally easy to operate. In the state of Florida, operators must be at least 14 years old and must have successfully completed a National Association of State Boating Law Administrators (NASBLA) approved boating education course or have passed a course equivalency or temporary certificate examination. When operating a jet ski or any vessel with a motor of ten horsepower or more, Florida riders must have their boating education ID card and a photo ID card on them. 

Weather:

Jet skis fail to offer riders the same protections that other larger vessels do. That said, when stormy weather approaches, these PWCs can be extremely dangerous to navigate and you can be ejected quite easily. 
Our Florida Boating Accident Lawyers know how devastating these types of accidents can be. This is why we are here to help you and your family move forward after an accident has resulted in serious personal injuries or wrongful death. We offer free consultations so that you pay us nothing unless we win your case for you. We represent boating accident victims throughout the state of Florida. We will fight for the financial compensation that you and your loved ones deserve. Call us today at 866-608-5529 or contact us online.