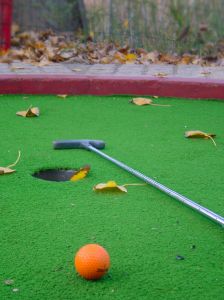 Orlando, FL – An 11-year-old girl on vacation with her family from New York was electrocuted and killed while playing miniature golf at an Orlando-area resort in June.
She was attempting to retrieve a ball from the pond on the mini-golf course when the water became electrified. She was taken to a hospital and pronounced dead.
Two others were injured for the same reason.
The resort owner and local sheriff's investigators could not identify why the fatal accident occurred.
However, building-safety personnel believes a faulty pump, likely connected to the wrong circuit breaker, caused the electric current.
In general, property owners, including resort owners, are responsible for the safety and well-being of all guests and visitors who use their facilities. When a business or individual invites someone onto their property, they are ultimately guaranteeing the grounds are free form any hazards that could jeopardize the safety of visitors. Failing to provide a reasonably safe premise can result in fatal accidents, just like this case demonstrates.

Florida law is quite clear in that anytime a property owner's negligence results in an injury or death, they may be held liable for damages. When a loved one is taken from you as the result of someone else's carelessness, legal actions are available that allow surviving family members to seek justice. A wrongful death claim can provide family members with compensation for funeral expenses, medical bills, loss of consortium, pain and suffering and mental anguish. While filing a wrongful death claim cannot lessen the emotional grief that families suffer following a tragic accident, it can hold any negligent parties accountable for their actions so that another terrible accident does not occur that claims the life of someone else. A Florida Wrongful Death Lawyer at Whittel & Melton can help you understand the legal options available to you and your family.
If a loved one was killed in an electrical accident while on someone else's property, a Florida Premises Liability Attorney at Whittel & Melton can mount an effective plan of action to make sure you receive the maximum recovery for your loss. We seek a fair settlement in every case, and as trial attorneys, we are not afraid to fight for your legal rights in court. Contact us today online or reach us statewide and toll-free by dialing 866-608-5529.