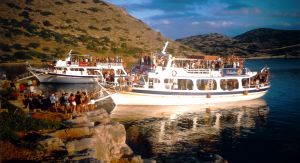 An Orlando boat dealer accused of operating a boat while under the influence of alcohol, killing a woman and injuring several others, was sentenced to six years in prison Tuesday.
The accident that took place on Lake Irma in east Orange County in July 2006 killed a 20-year-old former Amateur Athletic Union basketball star.
The man pleaded no-contest to charges of operating a boat under the influence of alcohol and three counts of boating under the influence.
State prosecutors dropped other charges against the man including, vessel homicide, boating under the influence causing damage, and reckless operation of a vessel.
A judge ordered the man to serve three years' probation and to speak publicly about the dangers of drinking alcohol.
The crash took place around 4:30 a.m. on July 30, 2006. The man was apparently operating the boat without lights and rammed into a dock.
Witnesses claim the man consumed at least eight cocktails before taking the boat out.
The passengers on board the boat suffered broken arms, a collapsed lung, a lacerated liver and facial fractures. The deceased suffered a broken neck and later died at the hospital.
Many Florida residents own boats and enjoy the freedom that comes along with recreational boating. While boating can be a fun activity for people of all ages, when proper safety precautions are not taken, dangerous accidents can occur jeopardizing the well-being of all passengers. When preventable accidents happen on the water, the boat's operator could be subject to criminal and civil penalties. If you or someone you love has been injured or killed in a boating accident due to the negligence of another, it is important to seek the help of a Florida Maritime Attorney who can fight for the compensation you are entitled to.
While many boating accidents occur when vessels collide with one another, these accidents often involve boats crashing into stationary structures such as docks, piers and harbors. These collisions can cause passengers to be knocked overboard or suffer serious injuries due to the impact of the accident. Boating accidents can be caused by a variety of factors, with the most common being:
• Inattentive or Distracted Driving
• Alcohol and Drugs
• Improper Lighting
• Poorly Maintained Boats
• Inexperienced Boat Operators

Intoxicated boat operators make a choice to operate their watercraft fully knowing that they will not be able to navigate safely. This form of negligence places passengers and everyone on the water in danger. If someone you love has been a victim of a boating accident caused by a drunk operator anywhere in the state of Florida, contact an experienced Florida Wrongful Death Attorney at Whittel & Melton online or call us statewide and toll-free at 866-608-5529. We can help your family understand what needs to be done to protect your rights in order to recover full and fair compensation for the loss of a loved one.