Whittel & Melton 352-369-5334 – Ocala Meningitis Outbreak Attorneys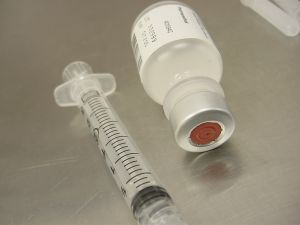 The Florida Department of Health has announced three more cases of fungal meningitis in Florida associated with tainted shots of methylprednisolone acetate that was manufactured and distributed by the New England Compounding Center.
One of the patients, a 50-year-old man, resides in Marion County. He received his shot at Marion Pain Management Center in Ocala.
The other two, a 60-year-old man and a 36-year-old woman, are from Escambia County.
These three new cases bring the total number of fungal meningitis cases to 22, including three deaths. All of the deaths occurred in Marion County.
The following lots of contaminated medication made and distributed by the NECC have been recalled:
Methylprednisolone Acetate (PF) 80 mg/ml Injection, Lot #05212012
Methylprednisolone Acetate (PF) 80 mg/ml Injection, Lot #06292012
Methylprednisolone Acetate (PF) 80 mg/ml Injection, Lot #08102012

The Ocala facilities that received and injected patients with the contaminated batches of the above medications include:
FLORIDA PAIN CLINIC – 3241 Southwest 34th Street Ocala, FL 34474
MARION PAIN MANAGEMENT CENTER – 1737 Southeast 28th Loop Ocala, FL 34471
SURGERY CENTER OF OCALA – 3241 Southwest 34th Street Ocala, FL 34474
With the number of fungal meningitis cases in Florida on the rise, it is very important to make sure you are familiar with the symptoms associated with the disease in case you have received an epidural back injection within the last three months. Fungal meningitis results in inflammation of the protective membranes of the brain and spinal cord. Symptoms may include fever, headache, neck stiffness, sensitivity to light, weakness, numbness and pain, redness or swelling of the injection site. According to the CDC, it can anywhere from one to four weeks for symptoms of fungal meningitis to appear in a patient that received an injection of the tainted medication.

If you or a loved one received an epidural steroid shot and has contracted fungal meningitis, contact the Ocala Meningitis Outbreak Attorneys at Whittel & Melton online or call 352-369-5334. Our personal injury and wrongful death lawyers are experienced in handling cases that involve dangerous drugs or defective medical devices. It is essential for you to fully understand your legal rights and options so that you can gain the fair compensation you deserve for your pain and suffering. Your initial consultation is free of charge and you will not pay any legal fees unless you recover a settlement. You have nothing to lose, so contact us today!