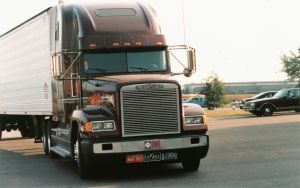 A 44-year-old Chiefland truck driver was killed Nov. 2 in a fiery accident that closed northbound lanes of Interstate 75 near Fowler Avenue for six hours.
According to the Florida Highway Patrol, a 20-year-old Tampa woman was merging onto I-75 north when she crossed into the path of a Panama City man, 48, driving a semitrailer truck loaded down with cardboard boxes.
The driver of the semitrailer apparently swerved into the inside lane to avoid hitting the woman's 2001 Ford Focus, but collided with the deceased man's truck, which was carrying aluminum gussets.
The man was pronounced dead at the scene after his truck caught on fire in the median.
Unfortunately, accidents similar to the one in the story above are quite common and often fatal on Florida's roadways. A truck accident can take a loved one from you in the blink of an eye. The pain, suffering and loss of a primary wage earner can be a truly devastating event for a family. A Chiefland, Florida Accidental Death Lawyer can help you and those close to you get through this challenging time. Many families believe that after the death of a loved one that they can handle the overwhelming matters that come along with a tragic accident like a truck crash themselves, but the reality is that you must think about funeral expenses, lost wages, medical expenses and other bills in addition to focusing on your own emotional recovery. This can often be too much for an individual or family to take on alone.
While nothing can bring back the death of a loved one, it is important for families to understand that they have legal recourse. Filing a wrongful death lawsuit can make sure all negligent parties are held accountable. A wrongful death lawyer at Whittel & Melton can investigate every aspect of an unfortunate truck accident. This can include analyzing the crash site, truck maintenance records, a driver's log book and employee records. Further investigation may reveal multiple parties are to blame for your loss.
Even when every safety precaution is taken, a truck accident can be caused for any number of reasons, including:
• Driver Fatigue
• Inadequate Maintenance
• Driver Error
• Speeding
• Improperly Loaded Cargo

If someone you love has been killed in a tractor trailer accident, it is important to be aware that insurance companies will likely undervalue your case. In order to make sure you recover the full and fair compensation you and your loved ones need and deserve, contact a Levy County Wrongful Death Lawyer at Whittel & Melton online or call 352-264-7800 to schedule a free initial consultation.