According to the Consumer Product Safety Commission, General Electric has agreed to pay a $3.5 million civil penalty due to their failure to report an unreasonable risk of serious injury caused by defective ranges and dishwashers.
Reports show that the connector in the range's wire harness can overheat and cause a fire, which could lead to serious burn injuries. In addition, various models of dishwashers were recalled because of  similar fire hazards. The CPSC said the dishwashers could short circuit when condensation builds up on the control board.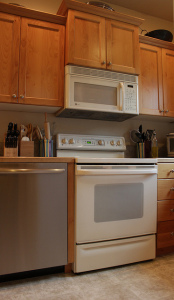 Standard CPSC policy requires manufacturers, distributors and retailers to report any findings related to a potential safety hazard or defect to the CPSC immediately. Generally, all information regarding possible risks or dangers should be reported within 24 hours of obtaining the information.
GE and the CPSC announced the recall of 28,000 dual-fuel ranges in April of 2009. The ranges were sold across the United States from June 2002 through December 2005. By the time GE had recalled the product, 13 separate incidents had been reported regarding the harness and wiring overheating in the back of the range. Of these reported incidents, five resulted in a fire.
GE was apparently aware of this hazard dating all the way back to 2004. GE also failed to report the fire hazards that were found in Profile and Monogram Dishwashers that were sold between July 2003 and October 2010. GE recalled 174,000 units in 2010, but knew of several incidents reports dating back to 2007.
In addition to the payment of $3.5 million, GE has also agreed to a compliance program as part of the settlement.  The compliance program will be set up to ensure that the Consumer Product Safety Act is being met as well as various protocols, including:
Proper procedures for recording, processing and reporting information regarding possible safety issues
Written standards and policies
Confidential employee reporting of compliance concerns to a senior manager
Senior management responsibility for, and general board oversight of compliance
Requirements for record retention
If you or a loved one has been the victim of any type accident that was the fault of someone else, a Florida Personal Injury Lawyer at Whittel & Melton can help you understand all of your legal options. Call us today at 866-608-5529 or contact us online to request a free consultation. We can help you and your loved ones obtain fair compensation for injuries sustained through the negligence of others.