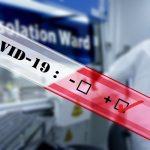 Gov. Ron DeSantis issued an executive order preventing a wide array of people from visiting nursing homes, assisted living facilities and similar sites in Florida in an effort to stop the spread of the novel coronavirus among some of the state's most vulnerable people.
Anyone who's traveled internationally, traveled on a cruise ship, is showing symptoms of the coronavirus or has been in contact with someone who has tested positive for the virus is temporarily prohibited from visiting those sites, he said.
The order applies to nursing homes, assisted living facilities, adult family care homes, long-term care facilities and adult group homes across the state.
"These are important efforts to mitigate the risk to our most vulnerable population to COVID-19," DeSantis said.
The order required facilities to prevent the following groups of people from visiting:
▪ Anyone infected with COVID-19 who hasn't had two consecutive negative test results cannot visit the facilities.
▪ Anyone showing signs of a respiratory infection cannot visit.
▪ Any person who has or been in close contact with a person infected with COVID-19 who has not tested negative is prohibited from visiting for 14 days.
▪ Any person who has traveled internationally must wait for 14 days from their return to the U.S. before visiting.
▪ Any person who has traveled on a cruise ship must wait 14 days from the date of their return before visiting.
▪ Any person who has been in a community with confirmed "community spread" of the virus must wait 14 days before visiting.
▪ Any person who lives in a community with confirmed community spread is prohibited from visiting.
"No one is exempt from the screening," Agency for Health Care Administration Secretary Mary Mayhew said.
People throughout Florida, the United States, and around the world are concerned about the spread of the coronavirus, which is officially known as COVID-19. This disease originated in China, where over 100,000 people have been infected and thousands more have died. While the U.S. rate of infection has been relatively low in comparison, the main concern is that the disease may continue to spread, causing serious illnesses and deaths.
A large concern with coronavirus is how it affects the senior citizen population, which raises the question of how residents of nursing homes will be able to fight the spread of the coronavirus, especially since the largest outbreak that has occurred in the United States so far has taken place at the Life Care Center nursing home in the Seattle, Washington area. There have been more than 10 deaths at this facility, and the infection has spread to dozens of people in the surrounding community.
Our Florida Nursing Home Injury Attorneys at Whittel & Melton understand the concerns about how coronavirus infections may affect nursing home residents. We are here to help you and your families understand if negligence was a factor when harm is suffered by a loved one. We know the law as it pertains to infections and other forms of nursing home neglect and abuse, and we can work with you to establish liability and help you pursue your legal options. 
The Dangers Of Coronavirus for Nursing Home Residents
It has been determined that COVID-19 is more likely to cause serious harm to the elderly as compared to other age groups. According to researchers who have studied the outbreak of the coronavirus in China, the overall fatality rate for those who are infected is around 2%. But, for those over the age of 70, the fatality rate is around 8%, and it increases to nearly 15% for those over the age of 80. Fatalities are also much more likely for patients who have conditions such as cardiovascular disease, chronic respiratory disease, diabetes, hypertension, or cancer.
Nursing Homes Must Act Responsibly to Control the Spread of Coronavirus
All nursing homes and assisted living facilities are required to have plans in place for disease prevention and control, as well as emergency preparedness plans that address how to respond to an outbreak. Staff members are required to follow proper hygiene procedures, which includes thoroughly washing hands and wearing eye protection and facial masks. Commonly-used areas and surfaces should be regularly disinfected. They must also follow the above listed protocols as outlined by the governor's order. 
Nursing Homes Can Be Liable for Coronavirus Infections
When a nursing home facility fails to follow the proper steps to prevent infections, it may be liable for injuries or wrongful deaths that occurred as a result. If a resident does not receive the proper medical care after contracting an infection, the victim or their family may be able to pursue financial compensation. Claims can also be pursued if the nursing home did not take the proper measures to prevent the spread of infection to visitors to the facility.
Contact Our Florida Nursing Home Coronavirus Infection Lawyers
If you or someone you love has been infected by coronavirus at a nursing home, our Florida Nursing Home Injury Attorneys at Whittel & Melton can investigate your case and determine what steps to take next. We offer free consultations and are available 24/7 to discuss your concerns.