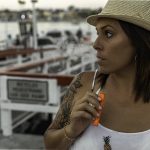 Florida is poised to raise the minimum age for smoking and vaping to 21.
The state Senate on Thursday joined the House in approving a measure that would also ban the sale of vaporized nicotine products used in so-called e-cigarettes. 
The legislation now heads to Gov. Ron DeSantis for consideration.
Health advocates said the measure is necessary to protect public health, particularly among young tobacco users.
While smoking among youth has been on the decline in recent years, vaping has surged. The rise has alarmed health advocates who worry about nicotine addiction and the stunting of brain development.
Vape shop operators have asserted that vaping is safer and helps wean smokers off cancer-causing cigarettes.
The U.S. Centers for Disease Control and Prevention has joined other federal and public health agencies in investigating an outbreak of deaths and lung injuries that appear to be associated with e-cigarettes.
As of last month, more than 2,800 such cases have been reported across the United States and its territories in the Caribbean. The CDC said 68 deaths have been confirmed in 29 states and the District of Columbia.
E-cigarettes have been marketed as a safe alternative to smoking cigarettes. E-cig devices work by heating a liquid, typically containing nicotine and other additives and flavorings, into a vapor, which users then inhale. When the aerosol is inhaled this is referred to as vaping or juuling, a reference to a particular brand, Juul e-cigarettes. 
E-cigarettes come in many different shapes and sizes and are called various names including e-cigs, vape pens, e-hookahs, vape mods, and tank systems. Vaping has become popular with millions of young people, which is why the state of Florida is taking such measures to try and curb the problem.
E-cigarettes pose a number of avoidable health risks. Most e-cigarettes and vape pens contain nicotine, and no matter how nicotine is delivered, it is addictive and can harm the development of young people's brains. Likewise, the vapor from e-cigarettes contains harmful chemicals, heavy metals and flavoring additives associated with serious lung disease. Some e-cigarettes contain acrolein, a weed killer, that can cause acute lung injury and may cause lung cancer, according to the American Lung Association
If you or someone you love has suffered an injury from an e-cigarette or developed breathing problems after using a vaping device, you may have grounds to file a lawsuit to recover financial compensation for injuries and illnesses that result because of these dangerous products. Our Florida JUUL and E-Cigarette Injury Lawyers at Whittel & Melton can fight to hold JUUL and other e-cigarette companies accountable for any harm they have caused you or your loved ones. The best first step is to educate yourself about your legal options by meeting with us for a free consultation.
Our attorneys and affiliated law firms at Whittel & Melton have the resources and experience to conduct a thorough investigation of all vaping or e-cigarette related injuries and illnesses. We will fight tirelessly to hold the at-fault parties accountable. You may seek financial compensation for the following types of damages related to an e-cigarette injury:
Medical bills, such as emergency room bills, surgery, reconstructive plastic surgery

Lost wages and future lost income

Pain and suffering

Emotional distress
You may have the right to pursue a lawsuit on your own or take part in a class-action lawsuit against e-cigarette companies. Our Defective Drug and Devices Lawyers are happy to review the specific facts of your case and discuss your legal options for seeking compensation. Our goal is to make sure you are fairly compensated for your suffering. 
The first step in obtaining compensation for harm caused by an unsafe e-cigarette product or vaping device is to establish that the manufacturer of the product acted negligently and that resulted in harm to you or your loved one. Our Florida Vaping Lawsuit Attorneys Whittel & Melton understand the types of evidence needed to meet the burden of proof in a product liability case.
If you are someone who has suffered an injury or lost a loved one because of a defective product or device, you may be wondering how you can afford a personal injury attorney. We want to assure you that we work on a contingency fee basis. This means that you will not have any out-of-pocket costs and will not owe a legal fee unless we obtain a financial award for you through a negotiated settlement or jury trial. If we are successful in obtaining monetary damages on your behalf, we receive a portion of the award to cover our legal fee and expenses.