Johnson & Johnson is asking doctors to return its laparoscopic power morcellators, due to the fact that these controversial surgical devices may have inadvertently spread cancer in women being treated for uterine growths called fibroids.
In April, the company's Ethicon unit suspended sales and distribution of the devices. During this time, their role in treating symptomatic fibroid disease was reviewed by the Food and Drug Administration and the medical community.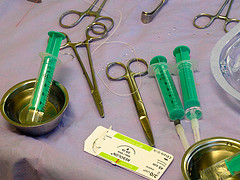 The FDA advised doctors not to use the devices in April, pending further review. J&J is now taking additional steps and reaching out to customers asking them to return the devices they have already bought in what it is calling "a worldwide market withdrawal" of all Ethicon morcellation devices that are still on the market.
What are these morcellators and how are they used? The morcellators are used to cut up uterine growths so that they can be easily removed using noninvasive procedures. They are also used in hysterectomies. However, the problem is that sometimes these masses can be malignant, which is why the FDA has warned patients and doctors that the spinning blade of the morcellators could potentially spread deadly cancer, making the outcome for patients much worse.
J & J is not accepting any legal liability for the alleged injuries from cancer caused by its power morcellators. J&J is not even calling this a recall. Rather, the company is taking preventative measures and contacting hospitals and other patients to ask them to return the devices. The Florida Injury Lawyers at Whittel & Melton represent victims across the state of Florida in lawsuits in order to obtain just compensation for any pain, suffering, lost wages and all other losses and damages.
Hopefully, new technology and better cancer screening procedures in the future will render laparoscopic power morcellators used in hysterectomies and myomectomies a safe procedure. Until then, the FDA and Ethicon have researched and concluded that power morcellation poses too great a risk to women to be used presently. It will be interesting to see if the American Congress of Obstetricians backs up these findings.
If you or a loved one has been diagnosed with cancer following a procedure using a morcellation device, the Florida Injury Attorneys at Whittel & Melton can help you determine your legal options. Please call us today for a free case evaluation at 866-608-5529 or contact us online.