A youth track and field coach in Miami Gardens was recently arrested for raping a 14-year-old athlete in 2010 and molesting her sister last year, according to reports. 
The 45-year-old coach was charged with numerous counts of sexual battery on a minor and lewd and lascivious molestation on a child. 
The man's accuser, now 24, said she recently found out the man molesting her younger sister which gave her the courage to speak up now about what the man did to her.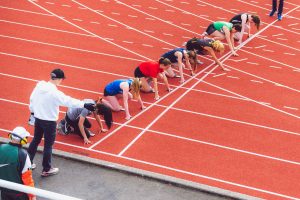 The woman told police that the man sexually assaulted her three times when she was an athlete on his track team. She said he had sex with her twice in his car and once at his apartment. She was at the man's apartment because she was spending the night due to an early track meet the next day. 
The woman told authorities she never reported the abuse when it was happening because she knew the man was well liked in the community and she did not want to get in trouble. 
The woman went on to tell police that the man made sexual advances against her younger sister in 2018 when she was 14. In July of 2019 he allegedly offered the teen $200 in exchange for sex. Then, reports indicate that later that month the man apparently came to the teen's home unannounced while she was alone and tried to kiss her and pull her shirt down in her bedroom, but she was able to get away from the man. 
He is currently jailed with no bond. 
The man is claiming he is innocent and will fight the charges. 
Athletic coaches are placed in a position of trust and authority with children. We don't like to think that someone that devotes their time to young kids would mistreat or harm them in any way, but the sad truth is that sexual predators are everywhere and they only think of themselves and their deviant needs. 
Those that are victims of sexual assault by their athletic coaches usually suffer emotional and psychological harm that far exceeds any physical injuries. They are often left unable to trust or build meaningful and fulfilling relationships with others, which can lead to self-destructive behavior due to their shame and low self-esteem all dating back to the abuse. 
Our Florida Athletic Coach Sexual Abuse Lawyers at Whittel & Melton have significant experience throughout the state wherein child abuse is alleged and brought to light in the courtroom. By working together we can provide you with the support, understanding, and legal expertise you need to expose what happened to you and achieve a sense of justice for the physical, emotional, and psychological damage that was unfairly inflicted upon you. 
We know how brave abuse victims are to come forward and share their story. We encourage anyone that might be afraid to speak out to let us help. Research studies have been conducted that indicate that 1 in 5 girls and 1 in 12.5 boys will be victims of child sex assault/abuse. Moreover, around 80% of child sex abuse victims will not tell anyone about their trauma until they are adults. We want to assure you that there is absolutely no shame in confronting what was done to you. We will keep your case and any details you share strictly confidential while we guide you through what to expect from the legal process. We will always strive to meet your best interests.
Our Florida Athletic Coach Sexual Abuse Lawyers at Whittel & Melton want you to know that we are here to help you in any way we can. We also want you to know that you may be entitled to recover significant financial compensation for the sexual abuse you suffered. We strongly encourage you to reach out to us online or by calling 866-608-5529 for a free and confidential case evaluation.