A motorcyclist who collided with an SUV on U.S. 441 and was ejected into a ditch by the impact of the crash passed away at a local hospital Wednesday.
The 65-year-old Ocala biker was transported to Ocala Regional Medical Center by ambulance following the crash. He was riding a 2011 Harley Davidson and was wearing a helmet, according to Ocala police.
The afternoon crash blocked traffic heading northbound on the busy thoroughfare at Northwest 20th Street for a little more than an hour as traffic homicide investigators from the Ocala Police Department conducted their investigation.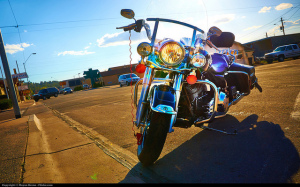 According to officials with OPD, a 2002 Ford Escape sport utility vehicle crossed U.S. 441 from the west, at Northwest 22nd Street, crossed through the southbound lanes and traveled through a median break. The vehicle then drove into the path of the motorcycle, which was heading north on 441 in the outside lane.
The man and his motorcycle were thrown into a ditch at Northwest 22nd Street. Police said one of the man's legs was severed in the crash.
Officers first received a call regarding the accident at 1:29 p.m.
The SUV driver, a 21-year-old Ocala man stopped not far from the crash scene. He was not injured in the crash. The front bumper was ripped from the vehicle, officials said.
It's unknown if speed was a factor in the collision. At this point, no charges have been filed, and the investigation is continuing.
This death is the first of 2015 for the city, which had four traffic deaths in 2014. None of those deaths involved a motorcycle, according to officials.
Regardless of how much safety gear a person is wearing while riding a motorcycle, including a helmet, many motorcycle accidents result in death. These sudden, unexpected deaths often leave family members and other loved ones angry, confused and lost as far as what to do next.
In many cases, family members of lost loved ones find themselves struggling to make ends meet. A wrongful death lawsuit can help survivors recover financial compensation to help make all necessary payments and keep the household running. At a time like this, our Florida Motorcycle Accident Attorneys at Whittel & Melton are committed to helping you obtain the compensation you need so you are not left worrying about your financial future.
Financial compensation may include:
Funeral expenses
Pain and suffering
Loss of future income
Loss of companionship
If you have lost a loved one in a fatal motorcycle crash, our Florida Motorcycle Wrongful Death Lawyers at Whittel & Melton can help. Call us locally at 352-369-5334 or toll-free at 866-608-5529 to schedule an appointment for a free initial consultation with us or contact us online.