Two Disney World visitors died late last year after riding two of the resort's tamer rides, according to a state report issued Wednesday.
In one of the incidents, a 22-year-old woman with a pre-existing condition, lost consciousness after riding It's A Small World on Christmas Day. She then passed away. The state report did not include the date of her death.
In the second incident, a 54-year-old woman lost consciousness after riding Toy Story Midway Mania at Disney's Hollywood Studios in October.
Both of the rides are kid-friendly attractions that are described as moving at slow speeds.
Florida's Bureau of Fair Rides releases reports of injuries associated with rides at major theme parks every quarter. This voluntary report includes injuries that occur on a ride and result in an immediate hospital stay of more than 24 hours, and are part of an agreement the parks have struck with the state. Because of this agreement, these parks are exempt from public regulation.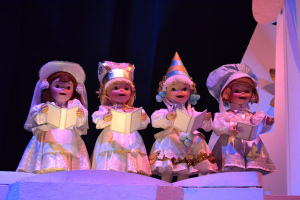 The last time there were two deaths in one quarter was in early 2007, when a 60-year-old man had a stroke after riding Soarin' and a 52-year-old man collapsed at the Downhill Double Dipper at Blizzard Beach.
The last ride-related death at Orlando's major theme parks happened at Typhoon Lagoon's Surf Pool in August 2012. A 54-year-old man collapsed in the water and died of a heart attack.
Disney reported nine other incidents.
A 64-year-old woman fell and fractured her leg while stepping off the Prince Charming Regal Carousel at the Magic Kingdom. A 63-year-old woman with pre-existing health conditions had a headache and lost consciousness after riding Big Thunder Mountain Railroad. She then underwent surgery for an aneurysm. At the Mad Tea Party, a 49-year-old man tripped while exiting the ride and fractured his shoulder. After leaving Seven Dwarfs Mine Train, a 54-year-old man with a pre-existing condition felt ill, and a 72-year-old male felt nauseated and lethargic after riding Space Mountain.
At Epcot, a 74-year-old woman fractured her shoulder after tripping over another guest's bag on Soarin'.
At Disney's Hollywood Studios' Rock N Roller Coaster starring Aerosmith, a 51-year-old woman suffered from memory loss and dizziness after riding the ride and later lost consciousness, while a 55-year-old woman had motion sickness resulting in nausea.
At Animal Kingdom, a guest with a pre-existing condition had a seizure on Kali River Rapids.
Universal Orlando reported five incidents. A 22-year-old man with a pre-existing condition felt sick after riding Harry Potter and the Forbidden Journey. A 36-year-old woman experienced neck pain on Hollywood Rip Ride Rockit. A 49-year-old woman with a pre-existing condition had a seizure on Dudley Do Right's Ripsaw Falls. An 82-year-old woman experienced shoulder pain on Poseidon's Fury. A 45-year-old man had a "change in mental status" on the Amazing Adventures of Spider-Man.
SeaWorld reported two incidents on the ride Journey to Atlantis. A 70-year-old woman suffered a collapsed lung and a 43-year-old man had a "personal medical condition." No further details were provided in the report.
Amusement park accidents can occur at various different amusement parks. As this report shows, this can include large-scale parks like Disney World, Six Flags or water parks, or even involve smaller venues like carnivals and state fairs. Technically, even something as small as a school fair or carnival could be viewed as an amusement park if an accident were to occur. Accidents can involve visitors to the venue as well as staff members.
While most people enjoy visiting amusement parks, accidents that happen on these sites can be very serious and result in permanent injury or even death. Anyone involved in an accident at a theme park can potentially file a claim. Wrongful death lawsuits have been filed against many amusement parks when a tragedy occurs resulting in death. Personal injury lawsuits can also be filed when injuries occur at an amusement park, such as neck and back injuries, heart attacks, broken bones, internal injuries, loss of limb and disfigurement.
A Florida Amusement Park Injury Attorney at Whittel & Melton can help unfortunate victims of amusement park injuries get the rightful compensation needed to move on from the accident. For a free consultation with us, please call us today at 866-608-5529 or contact us online.