The 2023 Atlantic hurricane season is nearing, and we are just under 65 days from the official start date of June 1.
Here are the changes and what you need to know for the 2023 hurricane season:
Atlantic Hurricane Season starts June 1, 2023 – while there has been some talk of shifting official start dates, June 1 will be the start date as expected.
Forecasts from the National Hurricane Center (NHC) will extend to 7 days, up from the previous 5-day projections.
The NHC will implement changed for its tropical outlook formats, which will be helpful to the public and meteorologists.
Four new names will be added to the 2023 hurricane list.
At the end of every hurricane season, the NHC and World Meteorological Organization review how the previous season went and identify what worked, what did not work, and what can be changed to improve the next season so that all communications regarding hurricanes and tropical storms are accurate and straightforward.
The fresh changes for this year should break things down in the best way for the public to stay informed and on top of inclement weather.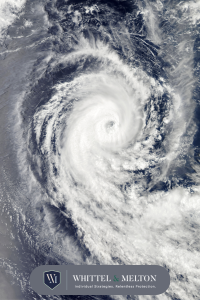 New 2023 Atlantic Hurricane Season Names
Once every hurricane season wraps, the World Meteorological Organization reviews what names will be retired and what new names will join the list as their replacements.
For 2023, we will use a list from 2017. That year, we saw three major storms: Irma, Maria, and Harvey. To replace these names that have been retired, the WMO has added Nigel, Margot, Harold, and Idalia.
Fun Fact: it is not at all uncommon to see the "I" name retired. Data from previous seasons shows that the WMO has replaced the "I" storm name the most out of any other letter. "I" storm names have been retired 12 times since 1954.
| | | |
| --- | --- | --- |
| ARLENE | HAROLD | OPHELIA |
| BRET | IDALIA | PHILIPPE |
| CINDY | JOSE | RINA |
| DON | KATIA | SEAN |
| EMILY | LEE | TAMMY |
| FRANKLIN | MARGOT | VINCE |
| GERT | NIGEL | WHITNEY |
Our Florida Hurricane and Tropical Storm Damage Insurance Claims Attorneys at Whittel & Melton urge you to start preparing for the 2023 hurricane season now.
Perform Preventative Maintenance on Your Property
Remove any large trees that could cause damage to your property in the event of heavy winds
Test your fire alarms and CO detectors and replace when necessary
Make sure sump pumps are operating correctly
Test emergency generators
Check that you have enough fuel for emergency generators
Clean gutters and downspouts
Inspect your roof for any damages
Buy Supplies
Batteries
Non-perishable foods
Water
Flashlights
First-aid kits
Battery-powered radio
Tool kit
Fire extinguishers
Tarps/tape/plastic bags
Generator and gas to fuel it
Have an Emergency Preparedness Plan for You and Your Family
Sit down with close friends/family and develop a plan for how you will stay in contact in the event of a dangerous storm and where you will go/what you will do. Keep a copy of this plan with your emergency supplies so you can refer to it should the time come to do so.
Review Your Insurance Policies
Make sure you look over your policies and ensure you have adequate coverage should a storm cause significant damage to your property.
If you have any questions about how to best prepare for the 2023 hurricane season, we are here to help. Call us today at 866-608-5529 or contact us online.