A San Francisco Giants fan, who suffered brain damage after two Dodgers fans beat him at the Dodger's Stadium on opening day in 2011, was awarded $18 million for his suffering, which the Dodgers will be partially responsible for, according to the New York Daily News.
The permanently disabled man sought $37.5 million for his lifetime care and compensation for lost earnings after he was left with brain damage.
The man spent two years in the hospital recovering from the injury.
I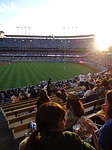 n the civil case, the man's lawyers argued there was no security present in the California team's parking lot.
It took the jury of six men and six women 20 days of listening to testimony before they reached a verdict on Wednesday.
The Dodgers were found 25 percent liable for the victim's pain and suffering. Jurors found that the two men convicted of beating the man were each 37.5 percent responsible for his pain and suffering. The jurors awarded $4 million for pain and suffering, which means the team is responsible for paying $1 million. The remaining $3 million will be paid by the man's attackers.
The Dodgers were also found fully liable for the man's economic damages. While only liable for 25 percent of the man's pain and suffering, jurors found that the team's negligence was a huge factor in causing the man's injuries. Due to the team's lax security measures set in place, which were found to be unsafe, the team will be held responsible for the man's economic losses – lost wages and medical bills – valuing $14 million. The man asked for $37 million for economic damages, which included future college expenses for his two children.
The victim's lawsuit also named former Dodgers owner Frank McCourt as a defendant, but he was not found liable for any damages.
Additionally, the jury also cleared the injury victim himself of any culpability in causing his own injuries, which ultimately could have lowered his total award of $18 million. Defense attorneys claimed the injury victim was intoxicated and may have instigated the attack.
If you or someone you love has been injured as a result of someone else's negligence, then you may be able to seek financial compensation for damages through a personal injury lawsuit. A New York Injury Lawyer at Whittel & Melton can help you obtain the just compensation you deserve for your injury and loss. Call us statewide and toll-free today at 866-608-5529 for a free consultation or contact us online. We are available 24 hours a day, seven days a week for our clients, and we can begin assisting you immediately.