Medicare patients in nursing homes saw a spike in deaths last year – up 32% from the previous year, according to a government watchdog report released on Tuesday. 
There were two reported surges just eight months apart that are said to be a result of the COVID-19 pandemic. 
The inspector general of the Department of Health and Human Services report shows that a large number of Medicare recipients in nursing homes had coronavirus in 2020 (nearly 4 in 10.) The number of deaths spiked by a whopping 169,291 from the previous year, before coronavirus appeared, according to the report.
How did investigators get to these numbers? They used what is considered an accepted method of estimating spikes in deaths in a group of people after a catastrophic event. This same method was used to estimate death tolls in Puerto Rico following Hurricane Maria in 2017 as well as the first set of COVID-19 deaths in NYC. There is no report on cause of death just after the first coronavirus surge last spring. It does not attribute a cause of death but is seen as a barometer of impact.
When compared to 2019, death rates were higher every month in 2020. The biggest jumps in deaths were in April 2020 where 81,484 Medicare patients in nursing homes died and in December 2019 where deaths reached 74,299 amongst Medicare patients in nursing homes. 
The report released Tuesday is the most comprehensive one from the government currently. It found that those residents in nursing homes or assisted living facilities that are classified as low-income and covered through Medicare and Medicaid were much more likely to have COVID-19 with infection rates among the population at 56% (26% died). 
Certain states also suffered worse impacts. By December 2020, more than half of the Medicare patients in nursing homes in Illinois, Connecticut, Louisiana and New Jersey had or were suspected to have COVID-19.
Coronavirus Injury Lawyers at Whittel & Melton Can Help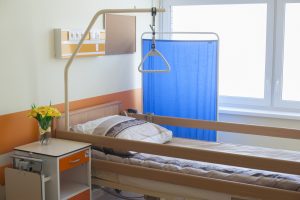 Our Florida Injury & Wrongful Death Lawyers at Whittel & Melton represent victims of nursing home negligence, and can help you seek compensation for a nursing home or healthcare facility that failed to properly handle the coronavirus pandemic or any other medical emergency. We can assist surviving family members who lost a loved one while in the care of a hospital, nursing home, or assisted living facility.

If your loved one became ill or died because of COVID-19 in a nursing home, then you may be entitled to financial compensation if the facility in question failed to have proper infection control policies in place or lacked the necessary protective equipment needed to keep residents safe. Our Florida Nursing Home Injury and Death Lawyers at Whittel & Melton can help you take legal action against nursing homes that did not follow the law in caring for your loved one. We have years of experience holding these facilities accountable for their role in the abuse, neglect, or other lapses in care by filing civil lawsuits. You have every right to take action against any facilities that failed to live up to their obligations of keeping residents safe from infection and disease. 
We strongly recommend that you get in touch with us right away so that we can guide you through the process of taking legal action against a nursing home that is responsible for your loved one's injury or death. We will stand with you through every stage of the process and make sure your rights are fully protected. 
Contact us today online or call us now at 866-608-5529 to schedule a completely free consultation.