A 30-year-old man was killed after being electrocuted Monday morning while walking on the tracks near the Broadway G train stop. Another man, 26, was shocked and sustained serious injuries.
The deceased and his friend were walking north on the southbound side of the subway, near Union Avenue, when the man apparently stopped to urinate and accidentally came into contact with the third rail, according to the FDNY and NYPD.
The man's friend tried to help him, but sustained an electric shock as well.
According to officials, both were taken to Woodhull Hospital, where the 30-year-old died of cardiac arrest.
A spokeswoman for the FDNY said the second man was listed in serious but stable condition.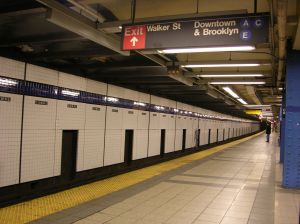 It is unknown at this time as to whether the Metropolitan Transportation Authority, which runs the subway system, was negligent in any way. The MTA is a common carrier and must deliver a certain standard of care to its passengers. If this man's death could have been prevented by the MTA taking reasonable precautions, a wrongful death lawsuit could arise. It will certainly be interesting to see how this case plays out.
Nearly four million New Yorkers use the subway everyday as their main mode of transportation. With that said, each day, numerous subway riders are injured on public transportation, mostly due to improperly maintained subways. A recent study conducted by the Federal Railroad Administration showed that on average, 3,000 train-related accidents occur every year that result in around 1,000 deaths and other catastrophic injuries.
The Metropolitan Transit Authority maintains the New York City subway system. Should subway riders in New York become injured, the MTA could legally be held responsible for any injuries suffered to its subway riders. If you or someone you love has suffered an injury on a train or subway in New York, you may be eligible to obtain financial compensation for your medical bills, lost wages and even pain and suffering.

If you are injured in a subway accident you must act fast. Subways and train properties are generally owned and operated by government entities. In general, subway injury matters have strict statues of limitations placed on them, requiring that the government be given notice of injuries within a very short period of time. Because of this, if you have been involved in a New York subway or train accident, you must protect your rights and contact a NYC Subway Accident Attorney at Whittel & Melton as soon as possible. Your initial consultation with us is always free, and we will never charge you any fees unless we recover monetary compensation for your damages. We urge you to contact us today online or call 866-608-5529 to discuss your case. We can begin helping you right away!