On Wednesday, six workers were taken to the hospital for injuries related to a rebar mishap at a construction site at 830 Brickell in Miami, according to officials.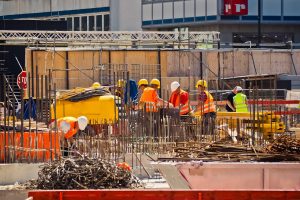 Miami Fire Rescue officials said the crane was lifting bundles of rebar when it collapsed on the six workers. It is unknown why the rebar suddenly malfunctioned. 
Rebar is a steel reinforcing bar that adds stability to buildings that are under construction. 
The workers became trapped in the debris, and the rebar impaled two of the six workers. One worker was able to climb out of the rubble on his own, and three others were pulled out by a rescue team. 
All six workers were taken to the hospital with serious and critical injuries. 
G&E Florida Contractors is building the structure and all six workers are employed by the company. 
The crane operator is employed by a subcontractor, Morrow Equipment. 
According to reports, all three of the companies involved with the accident have previous violations with the Occupational Safety and Health Administration (OSHA).  
An OSHA report shows that just last month, G&E was issued a notice for a similar violation at a different job site in Miami and is facing a nearly $7,000 fine.  
OSHA also shows that Morrow reached a settlement of $8,300 for a fall violation in 2018. 
The incident that happened Wednesday also resulted in a street closure.
The accident is still under investigation.
Construction sites can be the scenes of numerous accidents that result in tragedy. Construction is an inherently dangerous industry, and it makes sense, because workers are literally building their worksite as they go along. This creates a work environment that is constantly changing which can easily result in serious injuries and even death. This is why construction sites must have strict safety rules and protocols in place. 
According to OSHA, the construction industry accounts for one in five worker fatalities. The majority of these deaths and serious injuries can all be traced back to federal and state safety violations that are implemented to keep workers safe. 
There are several types of construction site accidents that are most commonly responsible for worker injuries and deaths, including: 
Falls

Workers being struck by an object (rebar falling on workers) 

Crush injuries 

Electrocution

Forklift Accidents 

Exposure to toxic chemicals 

Highway construction accidents 
If you are a construction site worker and you suffered an injury while on the job, you have the right to hold the at-fault party responsible. There may be multiple parties to blame, including your supervisors, company owners, and even property owners. While your job may be dangerous, that does not mean you have no safety precautions available. You have the right to safety during the entire duration of your employment at a construction site. If your employer does not take the appropriate steps to keep you and other workers free from harm, then they can be held liable for their oversights. Our Florida Injury and Wrongful Death Attorneys at Whittel & Melton are here to help you take appropriate action.
Your employer and its insurer will have lawyers on their side fighting to protect them once a construction accident happens. You need legal representation on your side to represent your best interests. We can help you make sure you are being compensated justly for your suffering. We can review the facts of your case and figure out if your injury merits a workers' compensation claim, a lawsuit, or possibly both. We can also gather evidence on your behalf to help prove your right to certain benefits and financial compensation. Finally, we can negotiate with all parties involved on your behalf for a favorable settlement agreement, or argue your case in court. 
If you are in need of legal representation following a construction accident of any kind, we are here to help. We urge you to reach out to us to learn what financial compensation you may be entitled to. We proudly help loved ones of those killed in construction accidents pursue wrongful death claims. We provide free and confidential consultations and are available 24/7 to speak with you.