Two people were injured following a helicopter crash near the Miami Beach shore on Saturday, according to reports from the Miami Beach police.
The two passengers were taken to Jackson Memorial Hospital where they were listed as in "stable" condition. There was apparently a third passenger in the helicopter who was not harmed.
The helicopter crash happened just after 1 p.m. Saturday afternoon. The helicopter landed in the Atlantic Ocean near 10th street in Miami Beach.
The Federal Aviation Administration (FAA) did arrive at the crash site and closed off a two-block stretch of roadway between ninth and 11th streets, according to police.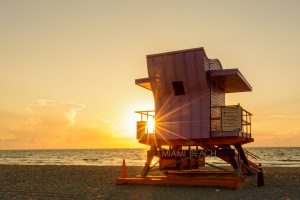 The FAA said the helicopter involved in the crash was a Robinson R44. The cause of the crash remains unknown at this time, but the FAA and the National Transportation Safety Board (NTSB) will work together to investigate the cause of the crash and provide updates as they are available.
Helicopters are used for a variety of different reasons, like medical transport, tourism, military purposes, search and rescue, construction purposes, agriculture purposes, news and media purposes, police purposes, aerial observation, and more. Regardless of the purposes for using a helicopter, this mode of transportation can be quite dangerous as helicopters are complex aircrafts that have many different components and systems that are manufactured by multiple companies.
There are many factors that can lead to a helicopter crash, such as:
Pilot error
Bad weather
Helicopter that has not been maintained properly
Defective helicopter or defective parts on the helicopter
Helicopter accidents involve their own set of complex legal issues, so you need an experienced aviation accident lawyer who understands how to go about investigating these crashes. These investigations often involve helicopter crash experts, aviation engineers, and other expert investigators to uncover the facts about a crash so that your lawyer can assess the legal issues involved. These crashes often involve personal injury claims, wrongful death claims, and product liability claims, or any combination of these. When you consult with our Florida Aviation Injury Lawyers at Whittel & Melton we can launch an immediate investigation into a helicopter crash and piece together a full legal analysis of the accident so that we can prepare the strongest legal arguments to best support your claim.
If you or someone you love has been involved in a helicopter crash, then we urge you to act fast and contact our Florida Aviation Injury Lawyers at Whittel & Melton so that we can help you understand your options and rights. We will answer all of your questions in a free consultation so that you can get the answers you need and make an informed decision about the legal remedies available to you in regards to reaching a favorable resolution for your legal claim following a helicopter crash in Florida. Call us now in Miami at 866-608-5529 or contact us online to get started.