Whittel & Melton 352-369-5334 – Ocala Meningitis Outbreak Attorneys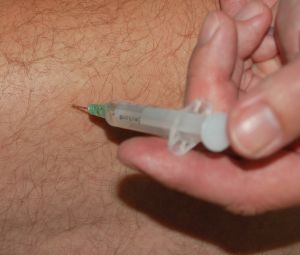 The Florida Department of Health announced Tuesday that 1,038 patients have received at least one shot of contaminated pain medication manufactured and distributed by a New England compounding pharmacy.
The state has apparently notified all but 12 of those patients. The state does know the identity of the remaining 12 patients and is still making efforts to reach them. They could be Florida residents or they could have been visitors to the state that may have received the medication while passing through.
The Secretary of Health Dr. John Armstrong discussed the details of the meningitis outbreak during a 1:30 p.m. press conference.
Earlier in the afternoon, the state announced that there were two more confirmed cases of fungal meningitis related to the contaminated pain medication – one of them in Marion County. This brings the total number of patients affected by the outbreak to 12, including two deaths.
The two newest patients suffering from fungal meningitis received epidural back injections of contaminated lots of methylprednisolone acetate.
The Marion County patient, a 74-year-old woman, received her shot at the Florida Pain Clinic. The other patient, a 79-year-old man, received treatment in Escambia County.
Of the 12 confirmed cases, 10 are in Marion County, which includes both deaths.
The Florida Department of Health is continuing its investigations into the outbreak under the guidance of the Food and Drug Administration and the Centers for Disease Control and Prevention.
Nationwide, 233 cases of fungal meningitis have been linked to the tainted medication, including 15 deaths in 15 states.
As local, state and federal officials sift through the methylprednisolone acetate issue, it appears the problem only continues to grow.
Now the FDA is questioning the sterility of any injectable drugs produced by NECC, which includes drugs used in conjunction with eye surgery and open heart surgery.
The state is now advising health professionals who used any medications produced by NECC after May 21 to contact affected patients as a precautionary measure.
No problems with any other medications have been reported.
On a side note, a second federal lawmaker has asked the Justice Department to look into whether the NECC violated federal laws or regulations.
Rep. Edward Markey, (D-Mass.) has now joined U.S. Sen. Richard Blumenthal, (D-Conn.) in prompting investigations.
Fungal meningitis is generally very rare. Unfortunately, there is no such thing as a mild case of the disease. The steroid, methylprednisolone acetate, has been confirmed to have caused a multistate outbreak of fungal meningitis affecting patients who received tainted batches of this epidural steroid injection to their spines after May 21. The contaminated medication has been traced back to the NECC, a compounding pharmacy based out of Massachusetts. Compounding pharmacies are known for mixing custom medications for numerous medical applications. Unlike drug manufacturers, these facilities are not regulated that closely and their products are not subject to FDA approval.
Fungal meningitis symptoms include the following:
• Neck Stiffness
• Severe Headache
• Fever
• Numbness
• Sensitivity to Light
• Pain, Swelling or Redness at Injection Site
These symptoms can develop over time, and an affected patient may not experience all of these at once. It can take up to a month for a person to experience these symptoms. If you or someone you care for received an epidural steroid injection and begins to experience any of the above symptoms, contact your doctor immediately.
The following products distributed by the NECC have been recalled:
Methylprednisolone Acetate (PF) 80 mg/ml Injection, Lot #05212012
Methylprednisolone Acetate (PF) 80 mg/ml Injection, Lot #06292012
Methylprednisolone Acetate (PF) 80 mg/ml Injection, Lot #08102012
Contaminated medications were received by the following medical facilities in Ocala, Florida:
FLORIDA PAIN CLINIC – 3241 Southwest 34th Street Ocala, FL 34474
MARION PAIN MANAGEMENT CENTER – 1737 Southeast 28th Loop Ocala, FL 34471
SURGERY CENTER OF OCALA – 3241 Southwest 34th Street Ocala, FL 34474

The Ocala Meningitis Outbreak Attorneys at Whittel & Melton are currently reviewing potential fungal meningitis class action lawsuits for patients affected in Ocala, Florida. We can provide you with a free individual assessment of your claim to determine if monetary compensation may be awarded to you based upon the negligent actions of the NECC. All cases are taken on a contingency fee basis, meaning you will pay no out-of-pocket expenses unless we obtain a recovery for you. Contact us today online or call us at 352-369-5334 to learn how we can help you.