A 22-year-old mother who was kicked out of a New York Barnes & Noble bookstore for failing to cover up while breastfeeding has settled her complaint with the Attorney General against the company.
According to a press release issued by New York Attorney General Eric Schneiderman's office, the terms of the settlement include improved employee training at Barnes & Noble stores, a $10,000 donation to a local breastfeeding support group and the posting of the international symbol for breastfeeding at the entrances of all New York Barnes & Noble locations.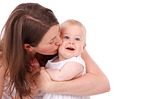 The 22-year-old New Jersey mom was browsing children's books in a Nanuet, New York, Barnes & Noble while breastfeeding her infant when an assistant manager walked up to her and asked her to cover up or leave the store. The mother apparently told the manager that she had the right to breastfeed in public, but the manager insisted it was "against store policy."
A few days later the mother returned with 15 members of a local breastfeeding group, who all breastfed their babies in the store, despite the manager's disapproval.
The mother claims that her stream of complaints to the Barnes & Noble corporate office led nowhere, so she took her issues straight to New York's Attorney General's office.
Under New York law, women are allowed to breastfeed virtually anywhere. The law clearly states, "a mother may breastfeed her baby in any location, public or private, where the mother is otherwise authorized to be, irrespective of whether or not the nipple of the mother's breast is covered."
New York's indecent exposure statute does not apply to women breastfeeding, which otherwise bans the public display of female breasts below the areola.
This is not the first time women breastfeeding in public has been an issue. According to the National Conference of State Legislatures, 46 states now have laws that were specifically aimed at allowing women to breastfeed in public. Another 28 states exempt women from public indecency charges if they breastfeed in public. Likewise, 24 states have more laws that allow breastfeeding women to nurse their babies in the workplace, and 12 states have laws that exempt breastfeeding mothers from taking part in jury duty. In Puerto Rico, California, Illinois, Minnesota, Missouri and Vermont, education awareness and other campaigns have encouraged breastfeeding in public.
A New York Injury Lawyer at Whittel & Melton is proud to help injury victims throughout the state of New York gain financial compensation for damages that result from other party's negligence or carelessness. For a free consultation to learn whether or not you have a valid claim, please call us today statewide and toll-free at 866-608-5529. You can even contact us online by filling out a free case evaluation form.