An orthopedic surgeon in Florida is accused of causing hundreds of horrific injuries while the hospital where he operated apparently ignored complaints from patients who say he showed signs of a progressive neurological disorder.
Court documents from 350 lawsuits share stories of patients from 2016-2020 who allege the doctor started slurring his words and showed signs that he had difficulty with his balance, trouble concentrating, and made erratic, angry outbursts, among other things.
There are at least 100 more lawsuits expected to be filed by the end of 2022.
The lawsuits go on to allege that these behaviors resulted in serious errors during his surgeries, including severed nerves, bone fractures, and ruptured tendons.
The complications that stemmed from these surgical errors required patients to get corrective surgeries and at least one patient lost her life, according to the civil suits.
The lawsuits name the doctor, his clinic, and Ascension St. Vincent's Riverside Hospital in Jacksonville, Florida.
The doctor is mostly known for performing hip and knee replacements, two operations that usually do not have a high rate of complications for patients post-op.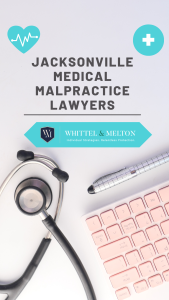 According to the lawsuits, a 70-year-old woman who had a hip replacement done by the doctor died in September 2018 after the procedure took longer than expected because the doctor fractured her femur, or thigh bone, during the surgery.
The civil suit alleges that the doctor tried to repair the fracture, but the woman's vital signs started to diminish. Her death certificate shows her cause of death reads complications of a femur fracture.
Other victims claim that the doctor left them with a leg that is shorter than the other due to selecting the wrong size femoral component for a hip replacement. Other patients have complained of serious nerve damage that has led to permanent "drop foot," which is defined as difficulty lifting the front part of the foot off the ground.
Court documents show that the doctor had progressive supranuclear palsy, which the Mayo Clinic states is an uncommon brain disorder that results in issues with walking, balance, eye movements and swallowing that worsen over time.
It is unknown whether or not hospital officials were aware of the doctor's condition. However, court documents do show that several physicians and nurses expressed concerns about the doctor's ability to practice.
The doctor retired of his own volition in 2020, according to reports.
The first trial for six plaintiffs is slated for August 2023.
Surgery is usually performed to treat a medical condition, but these procedures can be dangerous and result in further complications that can threaten a patient's health. While there is some level of risk accepted for any surgery, patients trust that their doctor, surgeon, and other members of their medical team will behave competently and provide the correct and necessary standard of care. When a surgeon, physician's assistant, or nurse makes an error or acts negligently in the operating room, this can cause serious injuries that result in medical malpractice. Victims of medical malpractice have the right to pursue financial compensation for all of their suffering and damages related to the botched procedure.
Our Jacksonville Medical Malpractice Lawyers at Whittel & Melton understand the effects that surgical mistakes can have on a patient and their family. We are dedicated to holding negligent surgeons, hospitals, and other medical staff accountable for any harm that they cause. Our number one goal is to achieve justice for injured patients by making sure that they receive full and fair compensation for all of their injuries.
Surgeons, doctors, and all medical staff are held to a high standard of care in the operating room. When they fail to live up to this standard, a great deal of harm can be done to a patient. Mistakes that arise from lack of training, carelessness, distractions, or not following proper procedures are all forms of negligence. When negligence results in injury, victims have the right to seek compensation for the harm they have suffered through a medical malpractice lawsuit. Our Jacksonville Medical Malpractice Lawyers at Whittel & Melton work with injured patients to see to it that they are compensated fairly and that the at-fault medical provider is held accountable so that future mistakes of the same caliber do not affect other patients. Continue reading