Thanksgiving is usually a time spent with family and friends carrying on old traditions while making new memories. Frying a turkey has become one of those new traditions for many households across America. However, the reality is that this tradition could end in tragedy. House fires from turkey frying have become more and more common the past few years. The good news is that many of these fires can be prevented by taking certain safety precautions.
Turkey Fryer Safety Tips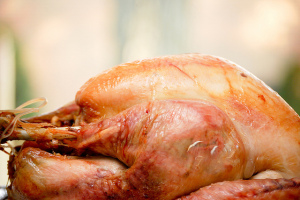 Lots of people choose to fry their turkeys instead of cook them in the oven. Those who fry their bird usually use outdoor turkey fryers that are connected to some type of gas source, like propane. In fact, according to the Insurance Institute for Business and Home Safety, more than one-third of fires involving turkey fryers take place in someone's garage or patio. With that said, if you are frying a turkey this year, make sure you are a safe distance away from trees or buildings. Turkey fryers should be kept off all wooden structures, like patios and decks, at all times.
Another important thing to remember is to fully thaw your turkey before placing it in the fryer. It only takes a small amount of grease to spill onto the fire source for your Thanksgiving to end in disaster. Start your turkey frying process by filling your turkey fryer with cold oil, then lower the properly-thawed turkey into the pot to determine how much oil should be added or removed and then you can start heating the oil. Doing this can help avoid hot oil spills and potential fires.
The last thing to remember is to stay close to the turkey fryer at all times when it is in use. Do not leave the fryer unattended and always keep a fire extinguisher nearby just in case an emergency arises.
Thanksgiving is a wonderful time to have fun and be with the ones you care about the most. Keep your holiday as safe as possible by remembering the above safety tips. If you or someone you love has been hurt during a turkey frying accident or any other incident, please call a Florida Injury Lawyer at Whittel & Melton at 866-608-5529 or contact us online for a free consultation.
Whittel & Melton wishes you a safe and Happy Thanksgiving!