A Wet 'n Wild worker remains in critical condition after he was trapped under water while cleaning one of the pools at the theme park Tuesday morning, according to officials.
Orlando police responded to the scene at 10:07 a.m. where an "industrial accident" was reported at the Universal Orlando park.
Another employee called for help while a third worker pulled the trapped man out of the water, according to a police spokeswoman.
The man was treated at the scene before he was transported to Dr. P. Phillips Hospital.
The Occupational Safety and Health Administration is investigating.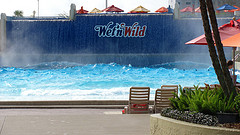 A Universal Orlando spokesman made the following statement: "At the moment, our attention is focused on assisting our team member and his family. We are also working to understand exactly what happened, but have nothing else to share at this time."
Water parks are a great way to cool off from Florida's hot summer months, but as this case shows, they can also lead to pretty serious accidents resulting in severe personal injuries and even death. If the park's owners fail to take certain precautions, such as making sure all rides are functioning properly, eliminating slippery surfaces, maintaining their property or properly training lifeguards and other staff members, serious consequences can result. Water park negligence in Florida can place many people, including patrons and employees alike, at risk of suffering traumatic brain injuries, skull fractures, spinal cord injuries, neck and back injuries, broken bones, paralysis, drowning and death.
While we usually hear about visitors and guests suffering injuries at an amusement park, keep in mind that employees of amusement parks are also vulnerable to injuries from accidents. Should an unfortunate incident lead to a workplace injury, an employee could be entitled to workers' compensation. Moreover, if a work-related injury is the fault of another party's negligence, a personal injury claim seeking financial compensation for damages can be filed against the responsible party.
Whether you are a visitor or an employee, a Florida Water Park Accident Attorney at Whittel & Melton can help you pursue monetary compensation for any type of injury caused by the negligence of a theme park. Our main goal is to make sure you receive just compensation for all accident-related expenses, including medical bills, lost wages and damages for your pain and suffering. For a free consultation, please call us today statewide and toll-free at 866-608-5529 or contact us online.