A hit-and-run crash in Stuart on Monday that left a motorcyclist hospitalized is the result of a texting driver, according to police.
The suspect, a 29-year-old man, was texting while driving when he struck the motorcyclist and fled the scene.
A citizen driving near the intersection of Indian Road and Willoughby Boulevard in Stuart on Monday reported the incident to police when he noticed the man hit the biker and failed to stop.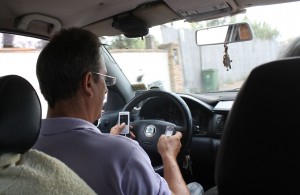 The 911 operator confirmed the location of the citizen and police arrived a short time later and arrested the man. According to Martin County police, the man admitted that he was texting while driving and thought he had killed the motorcyclist.
The suspect was arrested and faces several charges. The victim, whose identity has not yet been released, is still recovering in the hospital.
This is the county's first texting-and-driving case, according to reports.
Texting has become a very popular means of communication between friends and family. However, texting while driving is not only dangerous to other drivers, but to everyone else sharing the roadway. There are a growing number of auto accidents in Florida and throughout the United States that are caused by texting drivers. If you were involved in a car accident that was caused by a driver who was texting or talking on a cell phone, it is in your best interest to speak with an injury lawyer who can help you proceed with a personal injury lawsuit. A Florida Auto Accident Injury Lawyer can advise you of your rights as a victim and help you file a claim to recover damages for your injuries.
There are many expenses that are involved in a Florida car accident. The at-fault driver whose negligence caused your injuries should be held responsible for your suffering. By filing a personal injury claim you can get the money you need to pay for:
Repairs to your Automobile
Hospital Bills
Ambulance Fees
Lost Wages
Physical Therapy
Psychological Therapy
All Other Accident-Related Damages