Johnson & Johnson confirmed yesterday that they are recalling five sunscreen products after samples of these products were found to contain small amounts of benzene, which is a chemical that has been linked to cancer with repeated use. 
What Do You Need To Know?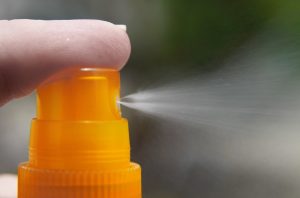 The products in question are packaged in aerosol cans: 
Aveeno Protect + Refresh aerosol sunscreen 
Neutrogena Beach Defense aerosol sunscreen
Neutrogena CoolDry Sport aerosol sunscreen
Neutrogena Invisible Daily Defense aerosol sunscreen 
Neutrogena UltraSheer aerosol sunscreen
Any consumers with these products are encouraged to stop using them and to call J&J's Consumer Care Center for a refund at 1-800-458-1673. There is also further information available on the websites for Neutrogena and Aveeno. 
The recall includes all can sizes of these products and all levels of SPF. These products have been distributed nationwide through various retailers. 
J&J released a statement that the benzene was found by the company doing testing in an independent laboratory. They are looking into how and why the chemical was in these five products. 
J&J is also actively working on getting the five products removed from any retail shelves. 
Benzene is a chemical that is found in the environment and is highly flammable. With repeated exposure at high enough levels, benzene can cause cancer. It is also known to cause damage to the immune system by preventing cells from functioning normally. 
The chemical's effects can vary from person to person, but symptoms can range from irregular heartbeat, dizziness, convulsions, and death when exposed to very high levels. 
J&J has notified the Food and Drug Administration (FDA) of the recall. The FDA is in charge of regulating pharmaceuticals like over-the-counter drugs and prescription medications as well as food, cosmetics, vaccines, veterinary products, plasma and blood products. 
When dangerous products are taken off of the market for consumers to purchase, then this means the product has been marked as unsafe for use. Just because a product made available for purchase does not mean it is safe, which is something most consumers are unaware of. This is where our Florida Class Action Injury Lawyers at Whittel & Melton can step in and help if you have been harmed by defective drugs and/or devices. We specialize in recalled product liability claims. We also offer free consultations and case reviews so that we can evaluate your potential claim and help you move forward with your legal options. We have the knowledge and resources to represent our clients efficiently and aggressively and are not afraid to stand up to  manufacturers and distributors of defective products or devices.  Continue reading