A 28-year-old cruise ship worker has been arrested after being accused of raping a passenger aboard a Holland America Line vessel and then trying to throw her overboard, according to authorities.
The FBI arrested the man Sunday when the MS Nieuw Amsterdam returned to Port Everglades in Fort Lauderdale. The incident apparently occurred early Friday morning in international waters off the coast of Roatan, Honduras.
The victim, a 31-year-old U.S. woman, told detectives that she was attacked and raped in her stateroom. She went on to tell authorities that her attacker attempted to throw her from the balcony, but she escaped and received help from another passenger.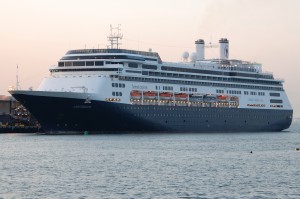 The accused eventually turned himself in. According to reports, the 28-year-old Indonesian man told investigators he attacked the victim because she had disrespected him earlier.
The man has been charged with attempt to commit murder and aggravated sexual abuse.
Holland America Line issued a statement on Tuesday stating that they are working with the authorities to understand how the incident occurred and what additional actions the company can take to make sure nothing like this ever happens again.
"At Holland America Line, the safety of our guests is our highest priority, and we are shocked and deeply saddened by this incident," Holland America Line president and CEO Stein Kruse said in a news release. "To our knowledge, no incident like this has occurred in our company's 140-year history."
The MS Nieuw Amsterdam took a seven-day western Caribbean charter cruise that left from Fort Lauderdale on Feb. 9.
If you are a cruise ship passenger that has been injured on a cruise ship then you need to seek experienced legal help as soon as possible. Special laws govern injury claims for passengers of cruise lines, limiting the time you have to file a lawsuit, sometimes as soon as six months from the incident date. A Fort Lauderdale Cruise Injury & Maritime Law Attorney at Whittel & Melton proudly helps passengers that have suffered harm in many different cruise ship accident situations. From criminal assaults or sexual attacks committed by other crew members or passengers to slip, trip and fall accidents and other mishaps arising from negligence, we can help you hold the responsible party accountable for their actions.
Due to the fact that cruise ship accidents occur on navigable waters in the United States or on foreign shores, complex legal issues often present themselves in these types of cases. In many injury cases, admiralty and maritime law may apply. These laws are significantly different from normal laws and can limit a victim's right to just financial recovery. Because of this, it is very important to seek the help of a cruise ship accident attorney as soon as possible after you have suffered harm so that your rights can be protected.
A Florida Cruise Ship Injury & Maritime Lawyer at Whittel & Melton can provide you with the aggressive and quality legal representation you need to obtain a successful outcome. We are able to handle cases in all Florida state and federal courts. If you have questions about a potential cruise ship injury claim, please call us today at 561-367-8777 or statewide and toll-free at 866-608-5529.